Are Ascend Kayaks Good? An Honest Review After 3 Years
This is a subjective, honest review of the products of Ascend Kayak as someone who has tried many of their products. I'm not affiliated with the brand or make any revenue from purchases made through links in the article to their store
Ascend kayaks are highly regarded among other kayak brands. Many beginners may not be familiar with the brand or what makes it so popular among skilled kayakers.
But the question is, are they actually good?
Ascend kayaks are good. Ascend is one of the most reputable kayak brands in the market, as it offers high-quality kayaks with excellent stability and durability at a reasonable price. Ascend kayaks come in many models with many different benefits and features, so your choices won't be limited.
Continue reading to learn more about why Ascend kayaks are the best in the market and to get a detailed review of some of their top models.
Everything You Need To Know About Ascend Kayaks
Ascend kayaks are designed and manufactured using computer-aided tools and modern equipment to provide consistent quality and a mix of stability, functionality, and comfort for kayakers of all skill levels.
They have a collection of sit-on-top and sit-in kayaks; both come in many different models with different features, so you will definitely be able to find the model that best suits your needs. Also, they all come with a 3-year warranty and
Where Can You Purchase Ascend Kayaks?
They have dealers all over the US. You can check their website to find the dealer closest to your area, and you can also take a look at all the kayak models they have in their collection.
What Do the Letters in the Model Name Mean?
Ascend kayak models' names come in many similar-looking letter-number combos, so choosing a kayak can be a little confusing.
The letters stand for the model design, while the numbers stand for the kayak's length in feet/inches.
T Models
The 'T' represents sit-on-top models with tunnel hulls, which are also known as pontoon hulls.
These hull designs have inverted bottoms, allowing more stability in almost any body of water.
These Ascend models were built specifically for fishing. They offer a standing platform and more stability for better casting accuracy. They also include more storage space for your fishing gear and can be customized to accept accessories such as rod mounts.
If you don't know what makes a fishing kayak special, you can learn about fishing kayaks here.
D Models
The 'D' represents sit-in paddling models built for recreational use.
They're ideal for beginners looking to learn to kayak, as they are easy to use and come at an affordable price.
H Models
The 'H' represents sit-in hybrid models with rotomolded tunnel hulls.
They offer more primary and secondary stability, maneuverability, and durability.
They have large open cockpits, which makes them ideal for taller kayakers. They also offer a good amount of storage space.
FS Models
The 'FS' represents free-standing models, which were designed by taking customer feedback into consideration.
They offer a unique mix of comfort, maneuverability, and good tracking. So, kayakers of all skill levels can benefit from this kayak in various settings.
What Are Ascend Kayak Best Features?
Now that you know more about ascend kayak models, let's take a look at some of the best features they offer that make them stand out among other brands.
Material
Ascend kayaks are made from a patented high-density polyethylene material called AQUATUF, which is specifically designed for kayaks.
This material offers long-term protection against UV light rays and excellent durability compared to other kinds of kayak materials. You can learn more about polyethylene kayaks here.
Safety
Ascend is superior when it comes to safety. It's one of only two kayak brands certified by the National Marine Manufacturers Association® (NMMA).
Being NMMA-certified means that ascend kayaks are the safest on water. That is because they meet, and even exceed, very strict quality and safety standards that the U.S. Coast Guard and American Boat & Yacht Council established.
Hull design and Power System
Ascend kayaks have a high-quality hull design and tournament-caliber power system, making them the most powerful and stable kayaks for fishing.
They're powered by a built-in 12V Yak Power system, allowing you to customize the kayak with the best fishing electronics. They are also pre-rigged for bow- or stern-mount trolling motors.
The Best Ascend Kayak Models
With the increasing number of Ascend kayak models in the market, it can be challenging to figure out which is the best one.
Here's a quick comparison between the specs of some of Ascend's top models:
| Model | Type | Length | Width | Weight | Weight Capacity |
| --- | --- | --- | --- | --- | --- |
| 10T | Sit-On-Top | 10'0" | 30" | 67 lbs. | 325 lbs. |
| 12T | Sit-On-Top | 12'0" | 31" | 77 lbs. | 350 lbs. |
| 128T | Sit-On-Top | 12'8" | 33" | 96 lbs. | 350 lbs. |
| D10 | Sit-In | 9'10" | 29" | 50 lbs. | 300 lbs. |
| H10 | Sit-In | 10'0" | 31" | 55 lbs. | 400 lbs. |
| H12 | Sit-In | 12'0" | 32" | 76 lbs. | 450 lbs. |
| FS10 | Sit-In | 10'0" | 30" | 57 lbs. | 325 lbs. |
Now, let's take a more detailed look into what each model can offer:
10T Sit-On-Top Kayak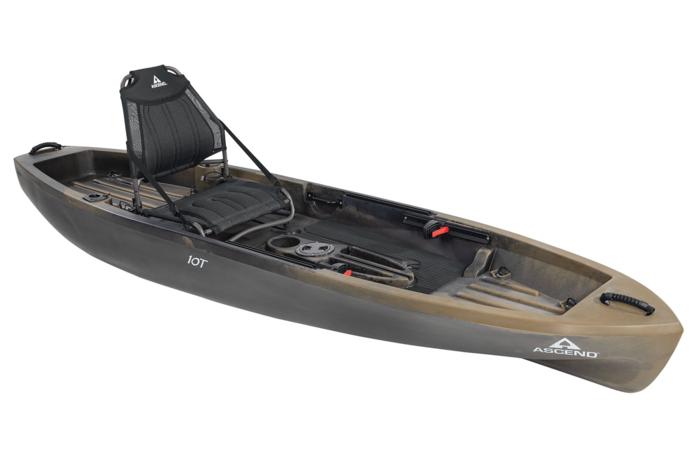 They come in 4 colors: Camo, Desert Storm, Lime, White/Black
They come at a reasonable price without sacrificing quality.
Their length and width allow for more maneuverability and better tracking.
They're light in weight which makes them easy to transport.
They also have some perks for more comfort, such as well as a drink holder, a removable and adjustable seat, and adjustable foot braces.
One of their downsides is the lack of built-in paddle holders. Another downside is their limiting weight capacity.
12T Sit-On-Top Kayak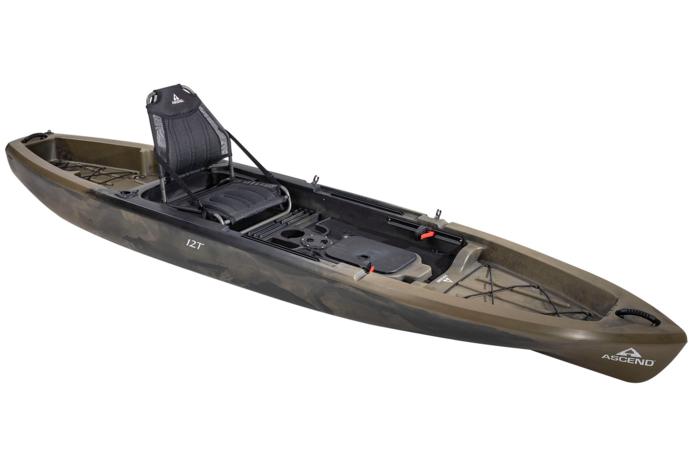 They come in 4 colors: Camo, Desert Storm, Lime, Titanium
They're excellent when it comes to speed, durability, and stability, providing good value for the money.
They come with recessed bow storage and impressive weight capacity to store all your gear without risking overloading the boat.
They come with a deluxe removable and adjustable seating system as well as foot braces that offer more comfort.
The main downside of these kayaks is that they sit too low in the water, which makes it more difficult to remain dry while kayaking.
128T Sit-On-Top Kayak
They come in 2 colors: Desert Storm, White/Black
It comes with a Yak-Power System with three built-in power plugs.
They have high stability and large storage and weight capacity.
They come with a removable seating system, adjustable foot braces, and built-in rod holders.
Their downsides are that they're heavy and more expensive than other models.
D10 Sit-In Kayak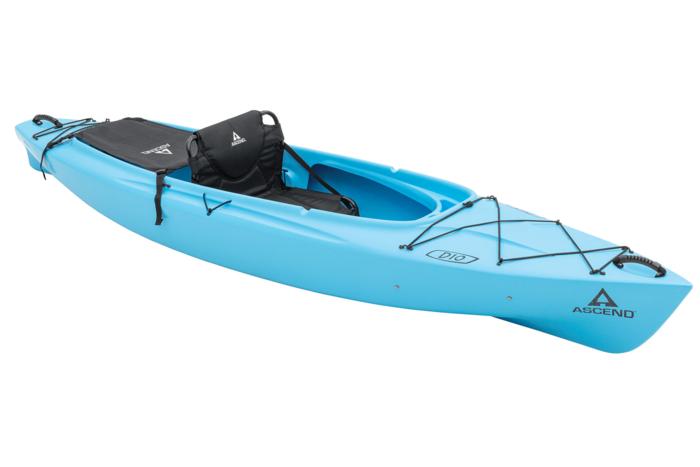 They come in 2 colors: Red/Black, Purple/Black
They have high durability and can withstand hitting rocks and branches.
They have good stability and float best on calm waters.
They have built-in paddle holders.
The major downside of these kayaks is the lack of dry storage.
H10 Sit-In Kayak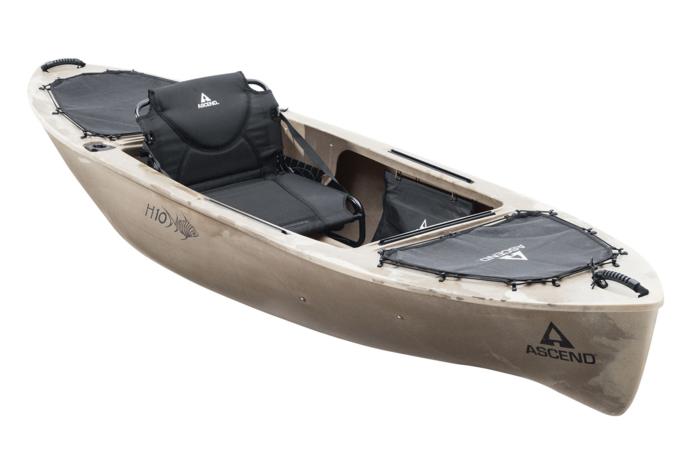 They come in 2 colors: Desert Storm, Titanium
They're comfortable and easy to get in and out of.
They have large storage as they come with port and starboard cockpit-side storage bags. They also have a high weight capacity.
They're lightweight, stable, and easy to maneuver. All these benefits come at a reasonable price.
Their main downside is that they're slower than other models. They also lack built-in paddle holders.
H12 Sit-In Kayak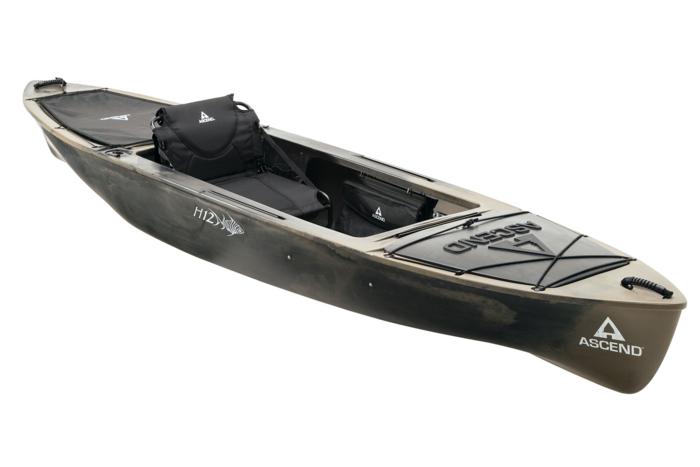 They come in 2 colors: Camo, Titanium
They have a large cockpit, making it easy to get on and off.
They have the highest weight capacity of all the models.
They have a large storage capacity as they come with a rotomolded hatch and bungees to store your gear.
Their downside is that they're too heavy for a sit-in kayak. They're also slow compared to other models.
FS10 Sit-In Angler Kayak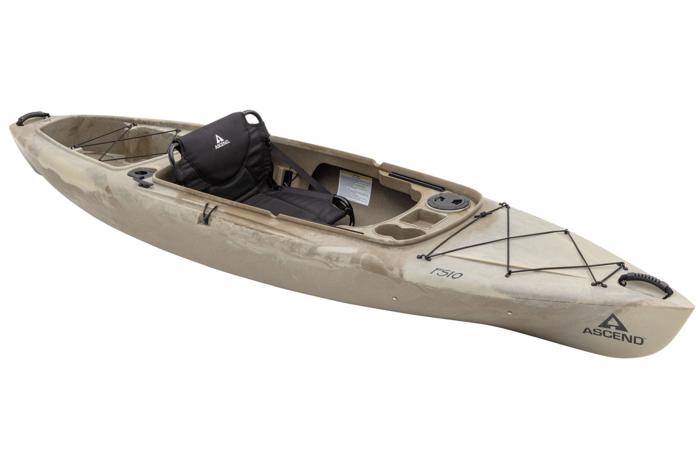 They come in 2 colors: Desert Storm, Titanium.
They're the best for fishing as they come with built-in 4-inch cleats that allow you to attach fishing accessories.
 They're lightweight and easy to transport.
They have high stability due to their V-shaped hull and extended keel design.
Their downside is the poor placement of the built-in rod holders. They also sit lower in the water compared to other models.
Related Questions
Where Are Ascend Kayaks Manufactured?
According to Bass Pro, Ascend kayaks are 'Made in the USA,' which should be good enough for most kayakers seeking a good quality kayak. However, if you're interested in more details, Ascend Kayaks are manufactured by Bass Pro's Tracker Marine in Lebanon, Missouri, to be exact.
What Is the Difference Between 10' or 12' Kayaks?
The main difference between 10' and 12' kayaks is that 12' kayaks are faster, while 10' kayaks are easier to maneuver and offer more stability. Your choice will mainly depend on your experience. So, if you're a beginner, it's best to go for a 10' kayak. On the other hand, if you are more experienced in kayaking, a 12' kayak will be better for you.
Kayak your way to Freedom
Helpful Resources 
Recreational Kayaking: The Ultimate Guide By Ken Whiting (you can also check this book on Amazon here)
If you like this article, please share it or pin it, you can find the share buttons below. We will really appreciate it ❤️